On the 25th of October, I got the email saying I had been accepted to be a #contentcreator for Outsite Co. Outsite is company that has co-living spaces perfect for digital nomads to #stayworkplay. To be picked for the opportunity meant I would stay in their co-living/working spaces with other content creators and travel to Costa rica for the week!
I was stoked but currently in Miami for work and had only 12 hours to book before flights went up! I got a great deal through Alaska airlines and was able to book for 387 roundtrip! So, of course I had to come!
I packed super light because I hate baggage fees and although I've had pretty good luck with checked bags I didn't want to risk losing my items or waiting in baggage claim forever.
My driver picked me up from the airport (San Jose) and took me the 1hour and 45min drive to Playa Bejuco, a small beach town where Outsite's co-living spaces are located! I arrived and was so happy to see how close the space was to everything necessary for living! Here's my top 6 reasons why you would love to stay at Outsite!
Location: Outsite's Co-living space is located right off the beach! That's right upon arrival I was so happy to find out the beach was only a 3 minute walk down the road. Playa Bejuco is a beautiful private beach and the perfect place for a morning surf, sun salutations or a run. Further down the beach to the left you run into a beautiful row of mangroves and a shallow walkway to the other side of the mangroves. It's picturesque and a perfect spot to enjoy sunrise! To the right of the beach entrance about 15-20 minute walk down the road you can find plenty of hotels and local restaurants. One being Hotel Pelicano owned by a couple Mikey and Diana who moved to Costa Rica after a 3 month honeymoon backpacking the country that led to them falling in love with the place and creating a 10 year plan to move back. The restaurant is lovely and you are greeted by Emily their 12 year old blind and very sweet pup. I highly recommend the Mojitos there :-) To the right of Outsite a few minutes up the road there's a mini market perfect for grabbing, drinks, quick food items and household items.If you head a little further along you will find a main road and a few minutes walk to the left is a Supermarket, Liquor store, Gym and a row of restaurants. The space is also conveniently located to Hermosa Beach, a surf town about 20 minutes drive away and Jaco, a party town about 30 minutes drive. (Jaco and Hermosa are only about 10 minutes) Manuel Antonio, a national park is about a 1 hour drive which is still short compared to the 1hour and 45 min drive from the airport. To be fair, the drives are worth it because you get to relax and not be overcome by the hustle and bustle of being at the city centre while still getting to enjoy nightlife and have accessibility.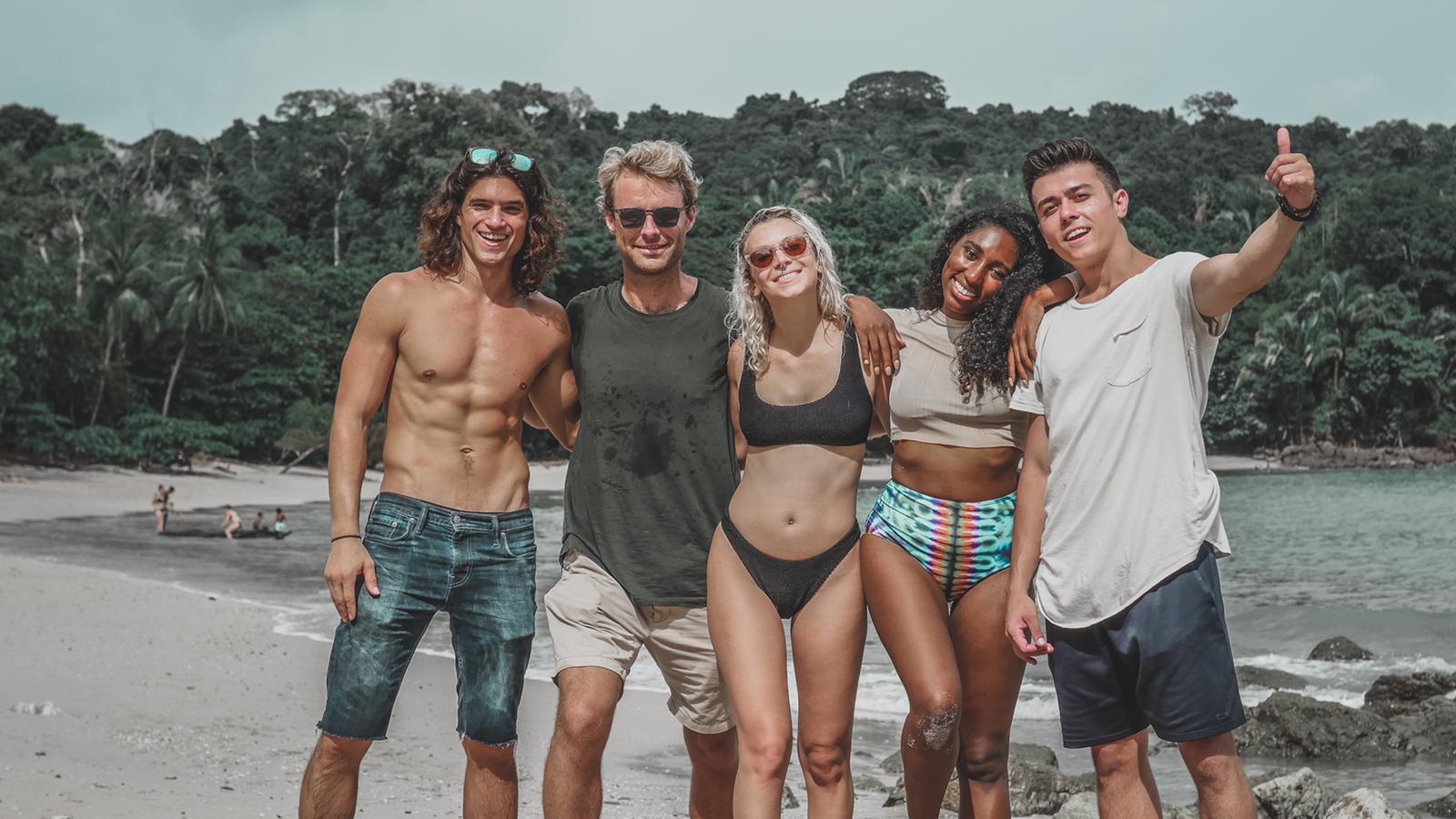 The Outsite Crew missing one! Drew the model and startup aficionado, Jimmy the digital nomad from Brussels, Ashley the writer and mental health advocate from NYC, me and Tyler the video creator with the drone skills from Connecticut. Photo courtesy of Drew Doyon.
Camaraderie: This has to be the best reason to stay at Outsite! The opportunity to meet fellow digital nomads can truly change to seemingly lonely experience of backpacking into a positive one. Not only do you meet people who have the same lifestyle or as Julio (one of Outsite's wonderful property managers) says "cultural baggage" you get to be in an environment of other who work on the go. I know for a fact I have difficulty working at home alone but when in a room of others tapping away at their computers and answering emails it made it a lot easier for me to get and stay focused. Not only did it help my work ethic but I now had new friends to adventure with. I got to meet people who came from different parts of the world, some as far as Europe and NYC and share the experience of exploring Costa Rica. There's the expression if you want to go fast go alone but if you and to go far go together, and in this case its so true! Being at Outsite afforded me the opportunity to meet a freelance writer from NYC, a model and startup owner, a content creator from Belgium, a video creator from Connecticut and a local digital marketing entrepreneur! All who I plan to stay in touch with as I expand my network! As a traveler, you never know who you may reconnect with:-)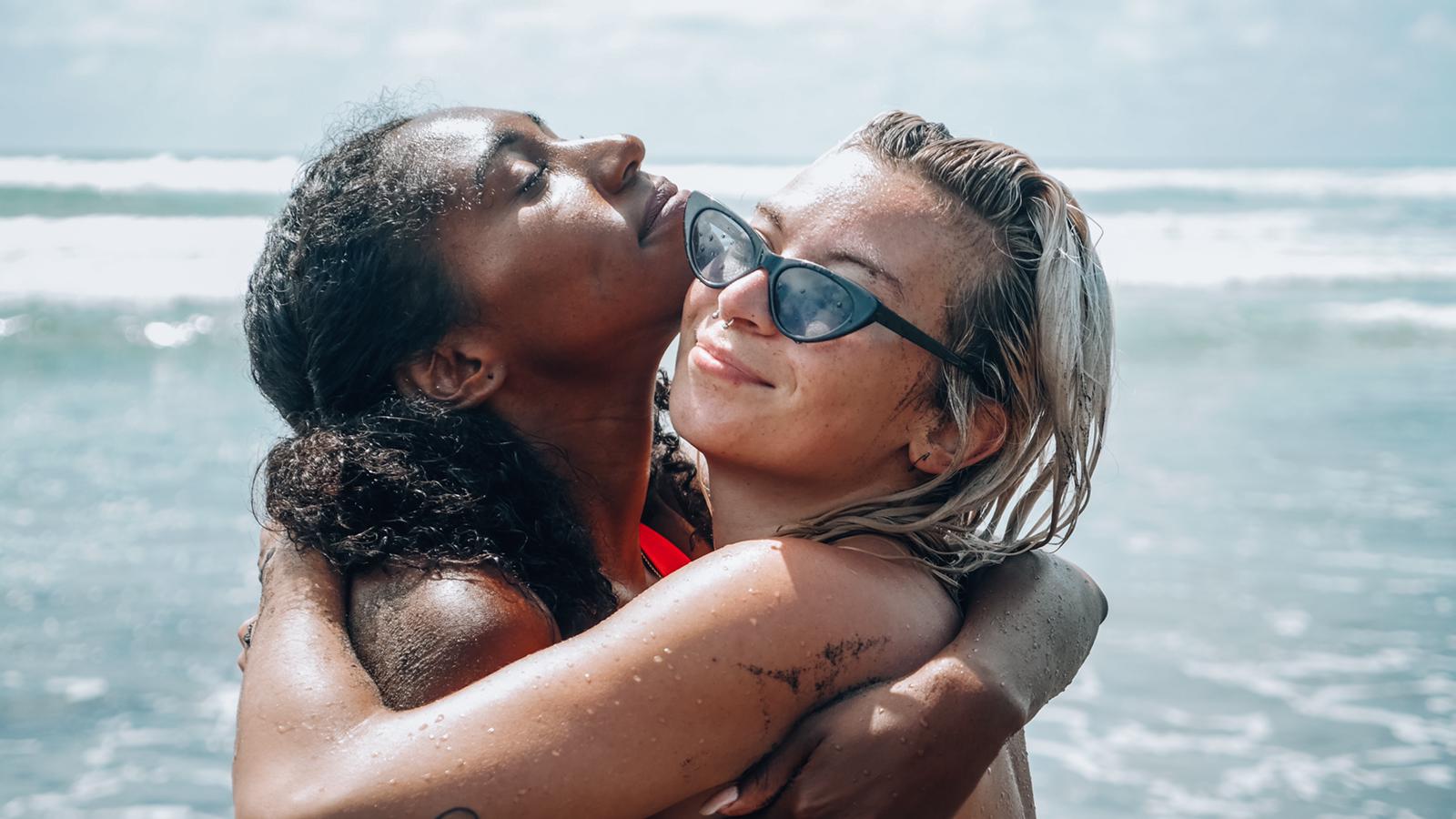 Ashley and I after sun salutations on the beach!
Photo courtesy of Drew Doyon.
We liked being around each other…. a lot! Photo Credit: Instagram@drewdoyon.
Nature: The beaches here are to die for. Many of the beaches around are black sand including Playa Bejuco ( the beach 3 minutes from Outsite) and Hermosa Beach. The beaches may be a bit rocky but the sand is smooth and the water is pretty shallow making it great for a swim. If you decide to visit Costa Rica you must visit the Manuel Antonio National Park, here you can walk through the rainforest and get to see the true beauty of Costa Rica. The wildlife here is spectacular and you can see a variety of creatures you wouldn't find in your backyard! Thanks to one of my fellow content creators at Outsite, I was able to identify different species of snakes, butterflies, capybaras etc. ( Thanks Jimmy!) I highly recommend doing this along with an English speaking tour guide or coming prepared with a pamphlet of all the potential creatures you can meet along the way. (Insert pamphlet link) My favorite trees are palm trees and there are plenty lining the beaches here, there are also almond trees which have beautiful almond shaped green leaves and golden brown when they are ready to fall! Look up because us just may find a sloth laying on one of the branches. Sloths are fascinating animals and were a highlight for many of us on the trip. The move super slow because they eat a light diet of leaves nuts and seeds and lack the energy to be active so the will spend many days laying in the same tree. Also, they are super cute and although recluse likes humans. There are a few animal sanctuary's in Costa Rica and some family his them as pets and for a small fee you can hang out/feed one!
Locals:As mentioned earlier many of the locals tend to be expats who fell in love with the country and decided to stay. They often own many of the hotels and restaurants and will be the ones serving you. I love the humble vibe of the country! Many of the property owners take the time to interact with their guests, give suggestions and really put their all into creating a positive vacation experience for those visiting. Along with Mikey and Diana, I have met surfers at Playa Bejuco willing to give me a ride to a nearby town just to hang out and show me around. One night when all of us content creators at Outsite went out for a night out on the town in Jaco, and the bar made sure to play some top 40 music so that we could also feel included. Many of the locals spoke English and worked through language barriers just so they can help us. The island truly sticks by its mission statement "Pura Vida"!

Drew and Tyler are cousins and also enjoyed surfing at Playa Bejuco, goof thing Outsite had some boards on hand!
Food: The food in Costa Rica is amazing! The seafood especially. When in Costa Rica you have to try a Casado! Casado's are their typical dishes made of a meat of your choice served with rice and beans, salad and on occasion a side of sweet plantain. Also, the seafood is fresh and the whole red snapper is a popular entree. The cuisine of the island is delicious and along with the typical dishes you can also find great Caribbean food and Italian food. I can say more but I'll just let my pictures do the talking!
BY FAR THE FANCIEST MEAL OF THE TRIP WAS ONLY A FEW BLOCKS FROM OUTSITE AT CHIRINGUITO!
Culture: Costa Rica is full of culture, and you can experience this through the people you meet, food you taste, the beauty of the country. The best place to the get a feel of the culture who be the busier areas of the country like, Jaco, Manuel Antonio beach, Arenal and Limon. Limon is on the opposite side of the country and east of SJO airport. Its considered the Carribbean side of Costa Rica and has element of West Indian culture also the population is more Afro-Latina. Arenal is great for seeing the mountainous regions and the cloud bridge (a popular destination where the clouds are so heavy it appears to form a bridge). The music is lovely and in some ways pretty westernized (I heard Taki-Taki and Despacito about a million times) but it was pleasant and little reminders of home and at the same time a nod to Spanish culture and music. The country of Costa Rica is huge and I highly recommend staying for at least two weeks to see it all! 6 days was not enough! I know returning I would love to see Limon and Arenal but also would love to stay at Playa Bejuco with Outsite, now that its become a one of my many new homes <3
If you want more information on any of the places I mentioned, please feel free to connect at Hi@latitudeandavenue.com
If you like to find out more about Outsite, please feel free to check them out on Instagram @outsiteco , the web at outsite.co to book your stay!
Pura Vida.